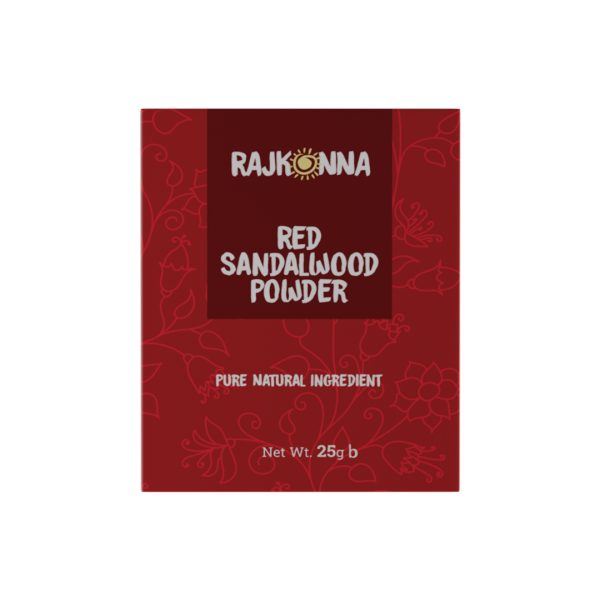 Rajkonna Red Sandalwood Powder
৳ 350.00
Rajkonna Red Sandalwood Powder is made from 100% organic sandalwood powder which has extensive therapeutic properties. It helps to remove dullness and provides a radiant glowing complexion. It also helps to provide sufficient nourishment to skin cells and makes them healthy from inside and out.
Benefits for skin:
Effective in removing blemishes
Eliminates pigmentation
Helps in Exfoliating the upper skin cell layer
Treats acne and pimple
Helps to remove tan & dullness
100% Natural & Organic
Ingredients:
Red Sandalwood powder (Pterocarpus santalinus) is also known as Rakt Chandan is derived from the red sandalwood tree. The wood at the center of the trunk (heartwood) is used as medicine. Its naturally occurring red pigments have extensive therapeutic properties. It is anti-inflammatory which makes it a perfect solution for healing skin.
Directions to use:
To remove uneven skin tone, dark spots, and pigmentation: mix red sandalwood powder with curd & milk to make a paste. Apply it all over the face and neck. Wait around 10-15 mins to dry. Wash it off with lukewarm water.
To get rid of acne and acne scars: add some honey, a pinch of turmeric powder, and organic rose water with sandalwood powder to make a paste. Apply the paste all over your face and neck. Let it dry for 15 mins before washing it off with water.
Suitable for all skin types
Men and women over 13 years of age
Barcode: 8944000574708