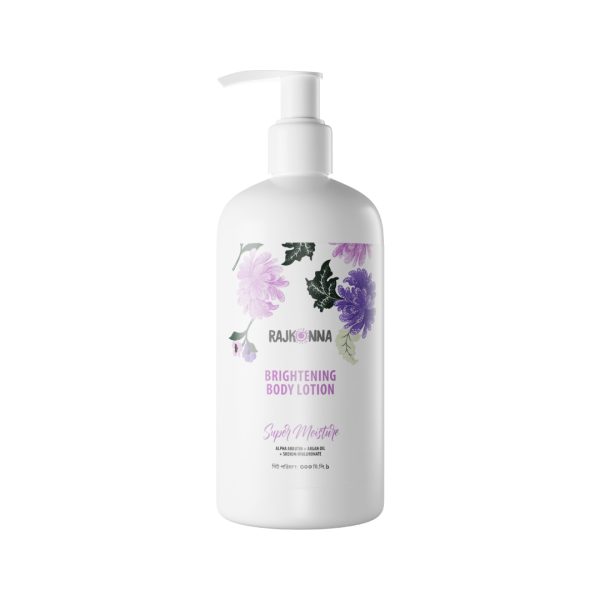 Rajkonna Brightening Body Lotion Super Moisture
৳ 425.00
This body lotion is a super moisturizing lotion that deeply nourishes your skin for up to 48 hours. The advanced formula of this lotion consists of Alpha Arbutin, Argan Oil, and Sodium Hyaluronate.  Alpha Arbutin is the preferred safe choice for skin brightening and spot fading. Argan oil is a great natural moisturizer and contains anti-aging effects. Sodium Hyaluronate helps to restore the skin's moisture, promoting a more revitalized and youthful complexion and improving skin texture.  Alpha Arbutin has a greater effect when paired with Argan oil and Sodium Hyaluronate. The winning combination of these three ingredients assists in achieving a healthy, youthful, clear complexion and dewy glow on the skin.
Key Information:
Infused with Alpha Arbutin, Argan Oil, Sodium Hyaluronate
Nourishes skin
Brightens skin
Fragrant
Key Ingredients:
Alpha Arbutin: Effectively lightens skin tone without increasing sun sensitivity and fades discoloration caused by inflammation and environmental stressors while evening skin tone.
Argan Oil: An all-natural skin healer that locks in hydration, plumps fine lines and wrinkles, fight free radical damage.
Sodium Hyaluronate: Attracts moisture in skin cells. This reduces dryness and flaking by increasing skin hydration.
Ingredients: Aqua, Isopropyl Myristate, Cetearyl Alcohol, Cyclopentasiloxane, Allantoin, Propanediol, Glycerin, Sodium PCA, Sodium Hyaluronate, Niacinamide, Alpha Arbutin, Argania Spinosa (Argan) Kernel Oil, Stearic Acid, Ceteareth-25, Phenyl Trimethicone, Dimethiconol, C12-15 Alkyl Benzoate, Dimethicone Crosspolymer, Ceteareth-20, DMDM Hydantoin, Sodium Polyacrylate, Dimethicone, Trideceth-6, PEG/PPG 18/18 Dimethicone, Triethanolamine, Tocopheryl Acetate (Vitamin E), Disodium EDTA, Parfum.
Made in Bangladesh
Benefits:
The formulation of this body lotion deeply moisturizes and hydrates your skin, making it soft and plump. The winning combination of the three ingredients alpha arbutin, argan oil and sodium hyaluronate also helps with skin brightening.
Direction of use:
Take a generous amount of lotion in the palm of your hand and use it all over your body, especially in dry areas.
Who can use Rajkonna Brightening Body Lotion- SUPER MOISTURE?
Men and women can both use this product.
For all skin types.
Disclaimer:
Store it in a cool and dry place away from sunlight and heat. For external use only. If irritation occurs, stop using it. Avoid direct contact with eyes and mouth. In case of contact, rinse immediately. Keep out of the reach of children.
FAQ
What is the purpose of Rajkonna Brightening Body Lotion?
Rajkonna Brightening Body Lotion is designed to stop moisture from leaving your skin or absorb water from elsewhere to keep your skin soft, smooth hydrated.
Can I use Rajkonna Brightening Body Lotion on the face?
Putting the lotion on your face once or twice probably won't cause any lasting harm. But body lotion isn't meant for facial skin, so it is advised not to use it on the face.
Can I use Rajkonna Brightening Body Lotion every day?
Yes, you can use this lotion every day.
Is Rajkonna Brightening Body Lotion safe to use during pregnancy?
Yes. However, if you have any doubts, please ask a doctor.
Barcode: 8944000579130