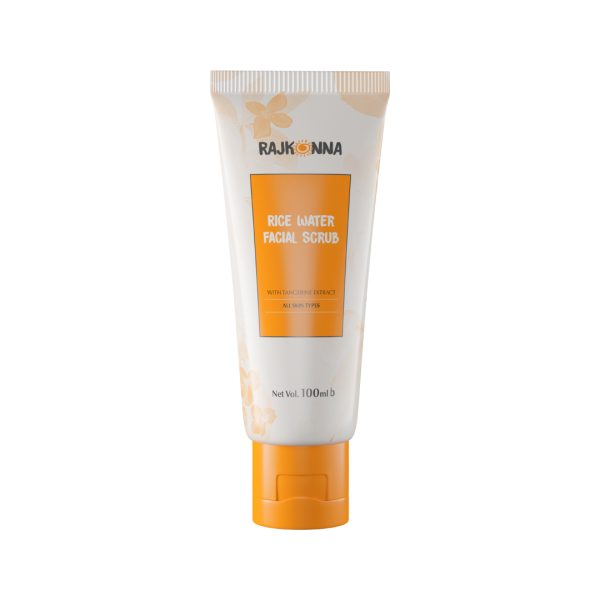 Rajkonna Rice Water Facial Scrub With Tangerine Extract
৳ 240.00
Rajkonna Rice Water Facial Scrub has a unique blend of rice grain water and tangerine extract to exfoliate, neutralize free radicals and bring back the glow your skin deserves. Rice water is home to amino acids, minerals, and antioxidants that boosts the production of elastin and collagen for revived skin. Tangerine extract brightens and makes your skin smooth and supple by reducing inflammation and sunburn.
Brightens the skin
Exfoliates naturally
Reduces hyperpigmentation
Helps cure sunburn
Key ingredients:
Rice Water contains amino acids, vitamins, and minerals that are known to protect and repair your skin.
Tangerine has anti-inflammatory properties that reduce pimples, acne, and breakout. It increases collagen production and promotes the growth of new cells.
Benefits:
Brightens the skin and gives a subtle glow
Exfoliates with natural ingredients
Lessens oiliness
Helps cure inflammation, sunburn and, hyperpigmentation
Provides you a more supple, smoother and, healthier skin
How to use:
Rinse your face with water properly but do not dry it out.
Apply the scrub on your wet face.
Take an adequate amount onto your fingertips and massage it upwards gently on your face in circular motion avoiding contact with the delicate eye area. Massage for about 10 to 15 seconds.
Rinse thoroughly with water.
Gently pat your face dry using a soft towel.
Who can use Rajkonna Rice Water Facial Scrub?
Men and women can both use this product.
Teenagers can use this product.
Barcode: 8944000574562